Plattform 25

Es reicht! Für alle. Fair teilen statt kürzen.


Petition an die steiermärkische Landesregierung für eine umsichtige und nachhaltige steirische Kulturpolitik - IG Kultur Steiermark



Take Your Time (Laß Dir Zeit) Time Inventors' Kabinet TIK
Take Your Time (Laß Dir Zeit)
2011 - Ausstellung und Symposion

Time Inventors' Kabinet ist ein Projekt, Auseinandersetzung mit und Interesse an Ökologie und Medienkunst, ein kollaboratives Experiment über Zeit; einen ökologischen Ansatz wählend in der Beobachtung von Zeitmustern und Zeitkontrollsystemen; die Werkzeuge, die wir entwickeln und bauen, um neue audiovisuelle Kunst zu schaffen und einen lebendigen Austausch über ökologische Zeit zu ermöglichen; eine Winduhr, eine imaginative Zeitschaltuhr, gesteuert durch die unregelmäßige Bewegung des Windes...
… TIK is a project, an interest into ecology and media art, a collaborative experiment with time … taking an ecological approach to observing patterns in time and time control systems… the creative tools we build to generate new audio and visual artworks and mediate a creative discourse on ecological time … an 'horloge a vent'(wind clock), an imaginary time keeping device regulated by the irregular movement of the wind …
Workshops, Radiokunstsendungen, öffentlich zugängliches digitales Medienarchiv, öffentliche Präsentationen, Konferenzen und Ausstellungen, eine kritisch-reflektierende Publikation; die Wiedererfindung ökologischer Zeit.
workshops, art radio sessions, public access digital media archive, public presentations, conferences and exhibitions, a critical publication … 're-inventing ecological time'…
Take Your Time
Eröffnung der Ausstellung:
Freitag, 8.4.2011, 19.00 Uhr
opening of the exhibition: friday, 8th of april, 7pm
im Rahmen von aktuelle kunst in graz
in the frame of contemporary art in graz

Symposion/EcoConference2:
Samstag, 9.4. und Sonntag, 10.4.2011 von 11.00 - 16.00 Uhr
Saturday 9th and Sunday 10th of april 2011, 11am - 4pm


Installationen/Installations
FLOWING ONE
von Els van Riel, als Künstlerin Teil des Teams von OKNO aus Brüssel.
Winduhr-Serverdaten aktivieren und deaktivieren einen Ventilator, der die Projektionsleinwand bewegt.
data from windclocks activate and deactivate a ventilator, which moves a projection screen.

OpenGreens
Annemie Maes

ERROR 2000
Josef Klammer, Graz: eine aus 4 parallel laufenden DVDs bestehende Arbeit, die auf vier baugleichen DVD-Playern abgespielt werden muss, deren Synchronizität schon ab Start nicht gewährleistet ist.
4 "equal" dvd-players display a drummer, and run out of synchronicity right away.
*Im Rahmen der Steiermärkische Landesaustellung GR2000AZ - Wissenschaft, Kunst und Kommunikation*

24/7
Florian Hollerweger, Graz/Belfast, eine Klanginstallation, die den gesamten Ausstellungszeitraum aufnimmt und in verschiedenen Zeitverzögerungen (hörbar über Kopfhörer) wiedergibt. Hollerweger setzt sich mit Zeitskalen auseinander, die unsere "performative" Erinnerungsfähigkeit überschreiten.
The structures of the everyday manifest themselves through sound, whether we register it consciously, subconsciously, or not at all.

social networks /graz11
Elli Scambor und Fränk Zimmer
Geschlecht, Migration und Milieu als Achsen der Differenz sozialer Netzwerke
Gender, migration and environment as axes of difference in social networks

Ein Haufen Energie / A heap of energy
Claudia Genger, 2011
Die Arbeit beschäftigt sich mit dem Aufwand der hinter alltäglichen Vorgängen steckt und in Vergessenheit gerät.
The work deals with the efforts that lie in daily life processes and that sink into oblivion often.

LAUTSPHÄREN / SOUNDSPHERES
Clara Oppel geht auf die Suche nach ortspezifischen Klängen, untersucht die Landschaft, die Stadt-, und Kulturräume nach ihren Klängen und Geräuschen, indem sie sie akustisch aufnimmt und analysiert.
Clara Oppel searches for site specific sounds, investigates landscape, city- and cultural spaces in their sounds and noises, records and analyses them.

Art Pollution Kit
Guy van Belle, Michal Kindernay
Stücke erzeugt mit Umweltsensoren, einigen MusikerInnen, ein bisschen Granularsynthese auf field recordings vom jeweiligen Ort des Geschehens
pieces with environmental sensors, some musicians, and some granular synthesis on field recordings on the location of the data recording

Herbarium einer Gstettn / Herbarium of a wasteland
Helene Thümmel

Time Bending Clock
Verena Kuni

Das Symposion EcoConference2 am 9. und 10. April wird auf folgende Themen fokusieren: Wahrnehmung von Zeit, Erinnerungskonzepte und -modelle, Bedeutung und Definition von Zeit.
The symposion /EcoConference 2 on 9th and 10th of april will focus on the following topics: perception of time, concepts and modells of memory, meaning and definition of time.
Konferenzsprache/conference language: english.

Saturday, 9th of april
11am - 4pm

Florian Hollerweger: "The Sound of Time"
Elli Scambor und Fränk Zimmer: a preview of their research "social networks /graz10";
Verena Kuni: "Time Bending Clock"
Isjtar: Introduction into "Sonification of windtime"
Magdalena Verena Felice, art historian, "Timescapes I" a walk through the exhibition
Sonic Interventions by worklab-participants

Sunday, 10th of april
11am - 4pm

Annemie Maes: "OpenGreens"
OpenGreensGraz: "wasteland research" (Wolfgang Reinisch, Nicole Pruckermayr, Helene Thümmel, Renate Mihatsch, Maureen Levis, Reni Hofmüller)
all: "Mapping Session"
Magdalena Verena Felice, art historian, "Timescapes II" another walk through the exhibition
Lenka Dolanova: "In a different soil. Growing in agriculture, society and arts."
Barb Huber et al. TIK-Radio
Visit to Kunstgarten

Sonification Worklab - Performances
Vom 4. - 8.4. findet in der ESC ein Sonification Worklab unter der Leitung von Istjar/OKNO Brüssel statt; in diesem Worklab geht es um die künstlerische Umsetzung der Daten, die wir über Winduhren bekommen.
Die daraus entstehenden Performances werden in das Ausstellungsprogramm einfließen .
Givan Bela, Seppo Gründler, Florian Hollerweger, Reni Hofmüller, Isjtar, Michal Kindernay, Norbert Math, Clara Oppel, Nicole Pruckermayr, Ofer Smilansky, Peter Venus, Stefanie Wuschitz

Freitag, 8.4, 19.00 Eröffnung der Ausstellung, incl. 1 - 2 Performances
Samstag, 9.4., 11.00 - 16.00 Symposion incl Mittagessen, abends Konzerte vom V:NM-festival, das am gleichen Wochenende stattfindet.
Sonntag, 10.4., 11.00 - 16.00 Symposion incl Mittagessen

TIK-Radio
Dienstag, 12.4. 10 - 12.00 Uhr
TIK-Radio
auf Radio Helsinki 92.6 in Graz
Barbara Huber, Jürgen Rendl and others

Take Your Time ist eines der Projekte in der ESC im LABOR, die als Teil des 3jährigen Arbeitsprozesses in Graz realisiert wird.
In Take Your Time geht es um Konzepte von Zeit, Zeitmessung, Zeitmessungsgeräten, kulturellen Unterschieden in Zeitmessungssystemen, und deren Auswirkungen auf zeitgenössische Kunstproduktion.

The project TIK (Time Inventors' Kabinet) will take place over 2 years, as a collaborative action by 3 core partners (OKNO in Brussels, COL-ME in Bratislava and ESC in Graz) and numerous other contributors. It is supported by the EACEA Culture Programme 2007-2013.

All together Program for TIK
http://timeinventorskabinet.org/wiki/doku.php


____________________________________________________________________
Support:
This project is supported by the cultural departments of the City of Graz, the Styrian Government and the Austrian Federal Ministry for Education, Arts and Culture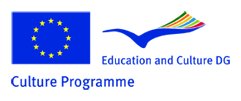 This project has been funded with support from the European Commission.

ESC-Newsletter abonieren: email an: labor[at]mur.at
for our ESC-newsletter email to: labor[at]mur.at